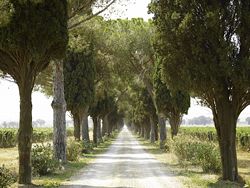 L'Andana is located in the heart of Tuscany, in the region of Maremma. The hotel spreads out majestically at the foot of hills bearing centuries-old olive groves, vineyards and cypress trees: a neoclassical Villa and a traditional Fattoria near an ancient chapel.
The property is an ideal location between Florence, Rome and Siena located only 8 km from the sea side. In the distance, Elba Island.
Even though L'Andana, with its 33 rooms, proposes grand hotel equipment and services to its guests, it is a very comfortable countryside inn with the spirit and atmosphere of a guesthouse. Refined decoration, absolute tranquillity make L'Andana an exceptional place – the perfect illustration of elegant "art de vivre".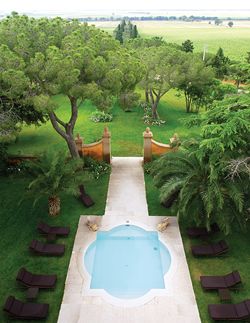 L'Andana offers a beautiful swimming pool, a large outdoor Jacuzzi in the villa garden, Tennis court, Golf practice green, bicycle rental, horse back riding and sandy beaches nearby.

L'Andana is an important historic spot: it was the hunting residence of the grand duke Leopold II of Lorena.
On its 500 hectares of estate among which 30 hectares of vineyards and 50 hectares of olive trees; an entire borgo once stood with farming and handicrafts activities. Wine is produced on-site as well as olive oil, which is used in the cuisine of the hotel restaurant. Guests will enjoy traditional Tuscan cuisine, based on regional products and sea food, declined by Alain Ducasse and interpreted by his "protégé" Christophe Martin.

The main restaurant "La Trattoria Toscana" view by Alain Ducasse offers a traditional Tuscan cuisine: demanding, yet simple and authentic. It relies on the purity and balance of the ingredients, and gives the ultimate refinement of subtle conjugations. The wine list includes the best nectars in the Italian wine palette.
The Villa restaurant opens for breakfast as well as light lunch and for dinner.