An entire ancient Medieval hamlet has been reconstructed, faithfully respecting its style and original materials, in a corner of Tuscany that is the envy of the world. Just 12 km from Siena, Borgo La Bagnaia and Borgo di Filetta rise from within a property whose total area covers 1100 hectares, of 600 hectares are woods.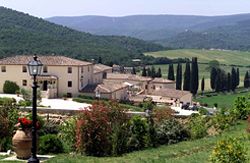 Borgo la Bagnaia Resort & Spa, set in the marvellous rolling Tuscan countryside just 12kms away from the city of Siena, has become a favourite location for those clients looking for comfort, fine cuisine and impeccable personalised service in the most elegant of surroundings.
The hotel offers guests 72 luxurious rooms and suites, tastefully decorated in rich red and yellow tones, designed to compliment the historical Tuscan architecture, and cleverly combined with original antique Chinese and Indian decorative pieces personally selected by the owner during her travels around the world. Each and every room enjoys splendid views over the splendid Tuscan countryside and the distant cityscape of Siena and is equipped with all the comforts necessary for the modern guest, be they travelling for business or leisure.
Guests are treated to a rare collection of period furniture and precious objects, for a refined ambience which permeates the entire hamlet.
The gourmet restaurant La Voliera, situated in the central square of the estate, offers guests the finest of cuisine, from the very best local Tuscan delicacies to the most sumptuous and beautifully presented, yet calorie conscious, dishes with a creative twist.
Within the grounds of the hotel the Buddha Spa offers a vast range of treatments as well as a host of week long programmes. Expert beauticians and masseurs work to ease away the stress of busy modern lifestyles, in a wonderfully relaxing environment.