The Tombolo Talasso Resort is a five stars Resort in the heart of the Etruscan Riviera, in Marina di Castagneto Carducci near Livorno.
A few steps from the sea and surrounded by four hectares of Mediterranean vegetation, it perfectly combines elegance and nature. The structural design of the building, rigorously symmetrical, is well integrated into the "tombolos", the typical sand moulds of this coast. All around the bright green of the lawn is interrupted, here and there, by pine trees and evergreen oaks.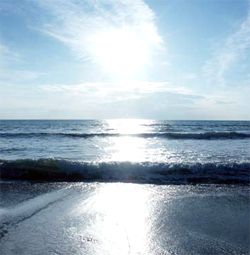 The brick-red driveway leading to the main entrance twists through the trees and lets us have a glimpse of the swimming pool, a sea-water lagoon surrounded by vegetation. A little further off the lawn leads into the pinewood with its palm trees, cedars and junipers, offering silence, shade and peace. Everything here, from the choice of colors to the large windows overlooking the sea, is intended to produce an effect of luminosity. At the Bar and Wine Bar you can enjoy some evening entertainment while sipping on a cocktail or on a glass of wine from a vast selection.
Walking up the staircase from the Lobby we reach the Terrazza Mare. Fit with teak floors and wooden sofas, the terrace has the same rounded shape as the Hall. Leaning on the banister you have the impression of being on the deck of a cruise ship and are captivated by a multitude of colors: the blue of the sea, the green of the "tombolos" and the white of the beach umbrellas. The terrace also has a bar where you can have a drink while marveling at a beautiful sunset and breathing in the fresh sea breeze. Beyond the tombolis is the 200 meter private beach which guarantees each guest the pleasure of the sun and first-rate discretion.
The Restaurant is a perfect example of style and sophistication. Perfect for ceremonies, weddings and official occasions, it can be reserved by both in-house and external guests.