Ischia, the 'green' island: the most beautiful and biggest island in the Gulf of Naples, Ischia is one of the most famous seaside and touristic spa centres of Italy and the world.
The ancients called it PITECUSAE-AENARIA-INARIME-ARIME-ISCLA.
Today, the island of Ischia is a well-known tourist centre for four main reasons. Firstly, for its unequalled natural beauty, secondly, for its all-year-round mild climate, thirdly for its thermal water, and lastly for its modern tourist facilities and hotels.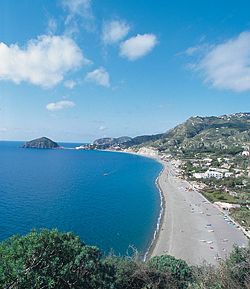 The Hotel Terme Saint Raphael is located in the south west of the island of Ischia. The Hotel is situated 50 meters from the centre of the village Testaccio, 1 km from the sea, in the Maronti bay. It is nearby the town of Barano D'Ischia.
The Hotel rises straight from the sea on one of the most panoramic and tranquil points on the island of Ischia, on a hill which faces the beautiful Maronti Bay. Recently restructured and remodeled, the hotel offers original architecture with gardens - an ideal place for a relaxing vacation.
Surrounded by nature and with panoramic view, it features 40 well-appointed bedrooms all recently restructured and with modern amenities at your disposal. Most rooms have wide terraces or windows that give onto the Maronti Bay and the romantic Sant' Angelo Isthmus. Rooms have all been recently remodeled and offer air-conditioning, mini-fridge, safe deposit box, bathroom with shower, direct-dial telephone, satellite Tv.
For your dining pleasure there is a restaurant serving national and regional specialties in a relax atmosphere and a bar with terrace overlooking the bay. Typical local and national cuisine, dietetic meals on request.
The hotel provides a Thermal Centre offering classic thermal cures. Numerous mineral springs on the island have made Ischia a popular health resort. Equipped thermal swimming pool with free deckchairs and beach umbrellas; spa establishment operating under national health service. Ample lounges for sun therapy.