A few steps from Florence and at the gates of Chianti Area, completely immersed into the nature the Villa presents a breathtaking and ideal scenery to organize your Italy vacation or a business travel, as well as a fashionable wedding with stay in a sixteenth-century Villa.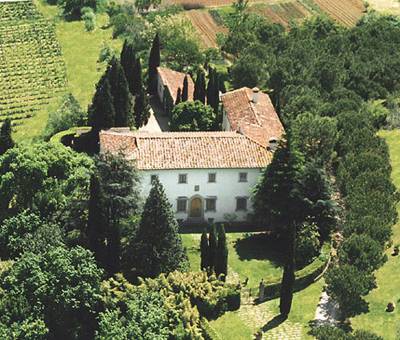 If you need accommodation in apartment the villa is the ideal location for your holiday.

The Villa was built in the XV Century by Vitelli Family.
In the course of the years the structure had a lot of changes of use but it always maintained its original shape. Thanks to an expert architect and to Tuscan artisans, the present owner, revalued the artistic and environmental heritage of the Villa, and created a Relais into a natural reserve very close to Florence.

Villa Poggio ai Merli offers a treatment of Hotel in Villa taking care of its guests and granting their privacy. The elegant charm of the Historical Relais is an ideal place for both leisure and business travelers, who can enjoy of the essential comfort and of a representative atmosphere.
Villa Poggio ai Merli is a typical luxury Tuscan villa on Tuscany hills. Offers accommodation in apartments: Luxury, Family, Country apartments.
The Villa, with its elegant rooms and hotel services, gives an esclusive hospitality so that its clients will feel and be treated like royalty.
The estate is completely deep into the olives groves and into a natural reserve close to Florence, that gives perfect balance of elegance and relax
The owners, with the staff of Villa Poggio ai Merli, wish you an unforgettable stay deep into the wonders of the Florentine history and nature.
11 apartments
Multi-lingual concierge service
Swimming-pool
Area gazebo
Meeting room