Borgo la Bagnaia Spa & Events Venue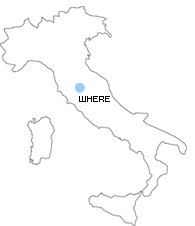 The name Bagnaia itself recalls the properties of the territory's water, where already in Medieval times the Siennese erected spa centers whose fame spread beyond the province and attracted Popes, Cardinals and Princes and the likes of Lorenzo il Magnifico.
Borgo la Bagnaia Resort, Spa & Events Venue, a five star country estate hotel complex set in the stunningly beautiful Tuscan countryside, just 12kms away from the city of Siena, has become a favourite location for those wishing to enjoy a luxurious vacation far from the frenetic rhythms of city life whilst indulging in spa treatments which have been designed to restore optimum wellbeing.

The spa itself has been created in a building which has been converted from ancient stables. This marvellous light filled wellness centre is situated in a secluded part of the country estate and provides total privacy for spa guests at all times. The spacious treatment rooms all
have natural sources of light. Oriental decorative pieces, and splendid views over to the typically Tuscan landscape contribute to make the Buddha Spa a truly inspirational environment.

The Buddha Spa boasts a treatment menu which brings together innovative modern and century old healing philosophies. These combined promote not only physical wellness but also, spiritual, mental and emotional health.
The center is characterized by its avant guard architecture, high tech fitness room, and wonderfully relaxing internal and external spaces. The Buddha Spa specializes in a variety of treatments inspired by different ethnic philosophies, sauna, Turkish baths. Pleasure and relaxation are further guaranteed by the inside pool decorated with columns and antique vases, and by the treatments using the precious thermal spring water.

Harmony and equilibrium are the lasting benefits of the Buddha Spa experience. A series of exquisite energy enhancing therapies have been designed to regenerate and promote healthy skin, invigorate the senses and, notably increase energy levels; transmitting a glorious sensation of absolute wellbeing. Signature treatments include hot stone massage, ayurveda rituals and oriental massages.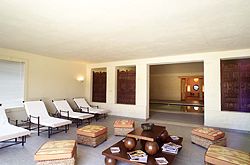 Borgo la Bagnaia Resort & Spa has earned a reputation for the fine furnishings of its fabulously appointed rooms and suites, impeccable, personalised service and its

superb regional cuisine

. The à la carte menu of the resort's La Voliera
restaurant
includes a number of 'light' options for both spa and non spa guests. Our chef's winning policy is that – if the primary ingredients used are of the highest quality, are same day fresh, and are cooked with the finest olive oil ­ it has to be good for you!