Buddha Spa – Borgo La Bagnaia Report Resort & Spa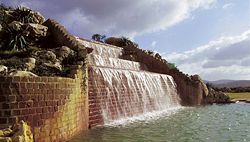 The
Buddha Spa
boasts a treatment menu which brings together innovative modern and century old healing philosophies. These combined promote not only physical wellness but also, spiritual, mental and emotional health.
The center is characterized by its avant guard architecture, high tech fitness room, and wonderfully relaxing internal and external spaces. The Buddha Spa specializes in a variety of treatments inspired by different ethnic philosophies, sauna, Turkish baths. Pleasure and relaxation are further guaranteed by the inside pool decorated with columns and antique vases, and by the treatments using the precious thermal spring water.

Harmony and equilibrium are the lasting benefits of the Buddha Spa experience. A series of exquisite energy enhancing therapies have been designed to regenerate and promote healthy skin, invigorate the senses and, notably increase energy levels; transmitting a glorious sensation of absolute wellbeing. Signature treatments include hot stone massage, ayurveda rituals and oriental massages.


Tombolo Thalassotherapy Center and SPA


At the Tombolo Thalassotherapy Center and SPA wellness professionals and qualified staff pamper the Guests with all the treatment and cures necessary to rediscover health, well-being and harmony.
The ancient art of massage is performed here by expert hands and combined with modern western techniques to encourage total physical and psychological regeneration. Massages like Shiatzu, Thai, Aromatherapy and Scen Tao exploit the calming and revitalizing properties of essential oils to improve circulation and tone the skin.
The brick-red driveway leading to the main entrance twists through the trees and lets us have a glimpse of the swimming pool, a sea-water lagoon surrounded by vegetation. A little further off the lawn leads into the pinewood with its palm trees, cedars and junipers, offering silence, shade and peace.
Thalassotherapy (from the Greek " thalassa ", sea) is an ancient and effective method of relaxation based on the use of all marine resources: sea water, climate, seaweed, sea mud and sand. Sea water contains a variety of minerals, salts and other oligoelements fundamental for the human organism to function and generate beneficial anti-stress, relaxing and revitalizing effects.



Terme di Saturnia Spa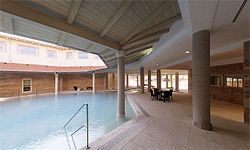 At Terme di Saturnia everything is focused on guest's well being.
A dream vacation is exaclty what you need to fight stress. Just "switch off" and go where expert people can take good care of you and take you by the hand to a new physical and mental status. Terme di Saturnia can be that place, where you can spend your dream vacation. and now free you mind, and dive into your existence's archetype: water.
Remise en forme - This program is dedicated to those guests who desire di fully recover their psycho-physical fitness, combining a relaxing vacation with the reawekening of their body.
Aquarelax - This program is dedicated to those guests who desire to recover a sense of well-being and complete relaxation in just one week. After years or research The Terme of Saturnia are able to offer a unique experience, a voyage full of new sensations in the realm of water that will enable our guests to discover a new way to live in harmony with their body and their spirit.