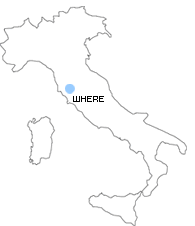 Located in a timeless scenic natural oasis in the heart of the Maremma region, L'Andana-Tenuta La Badiola is the most unique, authentic and glamorous Spa in Tuscany. This beautiful facility is surrounded by the soft and harmonious colors of the Tuscan countryside which set the mood for the pampering to come.

The Spa at L'Andana is dedicated to wellness and indulgence and takes you on a journey based on the exclusive concept of relaxation of the body and soul with the awakening of your culinary & gourmet senses.

The treatments on offer are impeccably undertaken by a team of qualified therapists and have been specially designed for you by ESPA, using many of the botanical resources indigenous to the Maremma region.
Deep in ESPA philosophy, is the determination to combine the best kept secret ancient and modern therapies with the finest quality ingredients and skin care advances. ESPA guarantees the quality, the purity and integrity of the natural ingredients grown at La Badiola, which when combined with modern techniques and the "way of life" designed by Alain Ducasse, will enhance your feeling of serenity and indulgence.


L'andana "A La Carte" Treatment Menu

As spa innovators, ESPA bring you the most effective treatments from around the world. Committed to quality and luxury, the treatment menu at L'Andana has been exclusively developed by ESPA with the culinary expertise from the world of Alain Ducasse, to create a fusion of exceptional cuisine and outstanding spa innovation.
ESPA active ingredients indigenous to the L'Andana gardens have been carefully selected to excite the palette and compliment the sensory journey. A unique tea ceremony inspired by Ducasse, together with the purity of ingredients and exceptionally natural products by ESPA, ensure the treatments are a truly wonderful experience and deliver outstanding results.
Choose from one of the many treatments available and discover why the spa at L'Andana is indeed 'unique, authentic and generous'.

A GOURMET SPA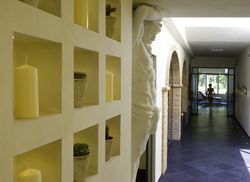 Individual homemade delicacies such as lavender tart and a light chocolate mousse can be enjoyed by an open fire in the relaxation area adjacent to the indoor pool.

ON A JOURNEY AT L'ANDANA
A healthy lunch, complimented by homemade vegetable juices, has been designed for guests booking spa packages and is served in the homely Villa restaurant.
TREATMENTS
ESPA PRIVATE SPA
ESPA SIGNATURE TREATMENTS
ESPA ESSENTIAL BODY MASSAGE AND ULTIMATE BODY
WRAPS
ESPA BODY CONSCIOUS
ESPA INTENSIVE FACIALS
ESPA FINISHING TOUCHES
DAY SPA PROGRAMMES
HOW TO SPA



PRIVATE SPA


In addition to our beautifully designed treatment rooms l'Andana has created two unique Private Spa suites, offering your own private sanctuary. The Single and Couples Suites both include private changing, cleansing steam shower and luxurious treatment areas.
Each Suite possesses its own secluded terrace, containing an outdoor vitality pool and relaxation area and allowing you to make the most of the Tuscan climes.
The Private Spa will be your haven of tranquillity for 3 hours or more and includes a Lifestyle Consultation and welcoming foot cleansing ritual followed by 2 hours of ESPA treatment time.
Private relaxation time before and after your treatments allows you to enjoy the surroundings of your suite.



ESPA SIGNATURE TREATMENTS


HOLISTIC BACK, FACE AND SCALP MASSAGE WITH HOT STONE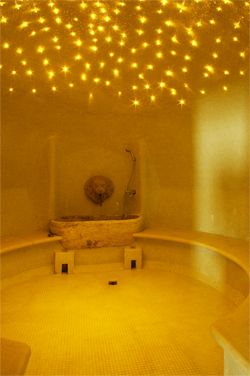 An all-embracing treatment incorporating a full ESPA Intensive Facial, with acupressure, face and head massage. Deep cleansing back exfoliation is followed by Hot Stone massage using aromatic oils to bring powerful de-stressing benefits to mind and body. The stones are then placed along the spine, shoulders and neck to stimulate and balance vital energy points. The Intensive Facial follows together with the Oriental head massage to help clear the mind, calm the spirit and ease facial tension. The result is re-hydrated, nourished and protected skin, a cleansed and powerfully massaged back and a sense of deep relaxation.



ESPA ESSENTIAL BODY MASSAGE AND ULTIMATE BODY WRAPS


This sophisticated menu of individual treatments includes body massage and body wraps. They can be taken separately or combined together into a Mini Ritual to give the ultimate body experience and maximum benefit for the skin, body and mind. After a lifestyle consultation your therapist will assist you in the classification of which massage, wrap or combination of the two is best suited to your individual needs.
The ESPA Essential Massage utilizes a powerful blend of aromatic essential oils and specific techniques to rebalance the senses, soothe aches and pains and revitalize the body.
The ESPA Ultimate Body Wrap includes body exfoliation, a mind calming oriental head massage and a choice of warmed Marine Algae, Marine Mud, or Oshadi Clay blended with ESPA essential oils to meet your specific needs.



... and many more!